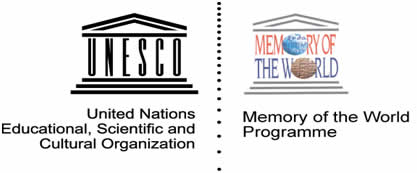 This survey is intended for library, archives and museum specialists, as well as anyone interested in preserving documentary heritage.
Through its Memory of the World programme, UNESCO aims to promote preservation of, and disseminate information regarding, documentary heritage found in archival holdings and library and museum collections worldwide. The Programme includes national / regional committees, which help to initiate and support nominations within their respective regions.
The Memory of the World Registers list documentary heritage of recognized world significance assessed on the basis of specific criteria outlined in the UNESCO Memory of the World General guidelines to safeguard documentary heritage.
The purpose of this survey is to increase and assess awareness of the Programme and to encourage nominations to the Memory of the World Registers. UNESCO hopes to use feedback from this survey to further develop the Memory of the World Programme.
The deadline for the survey is 30 April 2009.
Fill in the form online:
http://www.interpares.org/
unesco/awareness_survey.cf
m
Colaboración de Cristino Montañez
a través de Egctiana UprBlog en Facebook
Estudiante de Maestría EGCTI
Para mantenerse al día sobre el acontecer de la EGCTI, visite:
http://egcti.upr.edu
Nos encontramos en Facebook bajo Egctiana UprBlog y bajo la comunidad Escuela Graduada de Ciencias y Tecnologías de la Información. Una
Aventura
muy especial.
Saludos cordiales,
Luisa Vigo-Cepeda
egctianauprblog@gmail.com
http://egctianauprblog.blogspot.com